WIRELESS BLUETOOTH KEYBOARD
Ever seen slim and glittering mobile phone or tablets with a keyboard that fits the desk perfectly?
Probably not. We've been waiting long for a beautiful keyboard,
and when we couldn't any more, we started this project to make what we wanted.
More beautiful design than even mobile phone itself, design that embraces retro styling,
the feeling of mechanical keyboard, keycaps to reduce typos dramatically,
multipairing for many devices, and even availability of macro for setting keys at your will,
we, ELRETRON INC, are finally introducing PENNA, our dream come true that took three years in the making
PENNA MOVIE Ver2 (2019.12)
Diamond 4AXIS Keycaps, with 3 years in R&D, are designed to type with absolute accuracy from any typing angles. Corners have been specially modified with roundness, resulting in smooth hit feeling
Retro Chrome Keycaps are designed with inspiration from typewriters. Blue type mechanical switch combined with Retro Keycap will certainly give you the reminiscence of typewriters.
Utilize Macro bars to save frequently used keys/words and
recall them any time by pressing the bar just once
MACRO
Default Status
Utilize Macro bars to save frequently used keys/words and
recall them any time by pressing the bar just once
Record Mode
If you pull up the bar, it will remain in this position and record mode begins.
If you type at this moment, it will be recorded.
Save & Wait Mode
If press down the bar downward slightly for the first time, what you've typed using the record mode will be saved and the bar will return to its original position, while the wait mode begins.
Transfer Mode
If you press the bar downward slightly,
it will return by itself pop back up and saved key is transferred to the tablet PC
Cherry mx Brown mechanical switch
Cherry mx RED mechanical switch
Cherry mx BLUE mechanical switch
Blue type switch with actuating force of 45g(±20g)
Less actuating force making it better for fast typing
Less noise and smoothness, especially more suitable for office environment
Brown type switch with actuating force of 45g(±15g)
middle-of-the-road option appropriate for both typing and gaming
for typing in office environments, where a clicky switch might annoy some
Blue type switch with actuating force of 50g(±15g)
Strong hit feeling, click sound, typewriter-like feeling
Exactly matching key and sound, better choice for accurate typing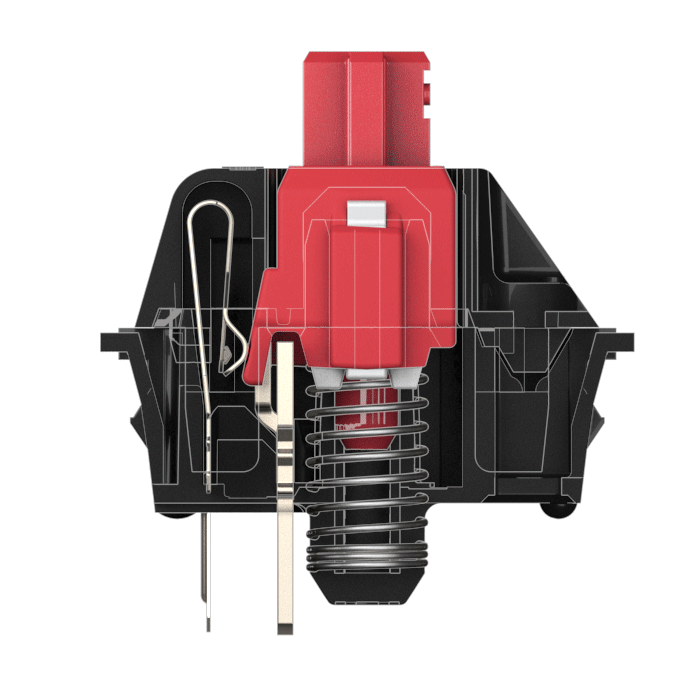 SOUND TEST
Brown switch typing sound
Top-notch quality is guaranteed by employing Keycaps manufactured from a German company Cherry,
known for having developed the highest technology in the industry
PENNA has 3 LEDs, each for indicating the macro mode, Bluetooth connection status, and battery life.
Please see below for the appearance.
MULITI O/S SUPPORT
Supporting Windows/Android/iOS will help PENNA to run on most devices
We hope PENNA can be available for all users, so it supports variety of O/S.
Windows/iOS/ANDROID are all supported and works flawlessly on most mobile devices.